LIGHT: Light-Induced Guided Healing Therapy Launches
at UC San Diego Centers for Integrative Health
Whether you are an entrepreneur or a student, a parent or a coach, an athlete seeking to better your performance or an individual faced with the shifting demands of chronic illness, Light Induced Guided Healing Therapy (LIGHT) provides an opportunity to improve quality of life and engineer new mental pathways that anchor a more positive outlook of life. With practice, we can develop new habits of the mind that work to make the experience of life richer and more rewarding.
After eight years of research and development, UC San Diego will debut a novel program this September, called LIGHT through its Centers for Integrative Health. LIGHT is an evidence-based protocol that empowers the individual with a self-care approach to enhancing self-efficacy, which is an individual's belief in his or her innate ability to achieve goals. This protocol has been shown to improve mood, decrease fatigue, and positively affect quality of life.
The 8-week LIGHT Self-Efficacy Course will introduce you to the foundational principles of this novel, evidence-based protocol and will provide you with ample practice to embody LIGHT for self-care and continued personal growth. This course will be taught by the co-founders/co-developers of the therapy, Paula Marie Jackson and Tom Thudiyanplackal.
Schedule & Location
This 8-week LIGHT Self-Efficacy course meets weekly, for 8 weeks.
January 12, 2019 – March 2, 2019
Saturdays, 2 p.m. – 4:30 p.m.
5060 Shoreham Place, Suite 330, San Diego, CA 92122
---
Watch Testimonials, Research Information, and an Experiential Session:
CLICK HERE TO LAUNCH VIDEO PLAYLIST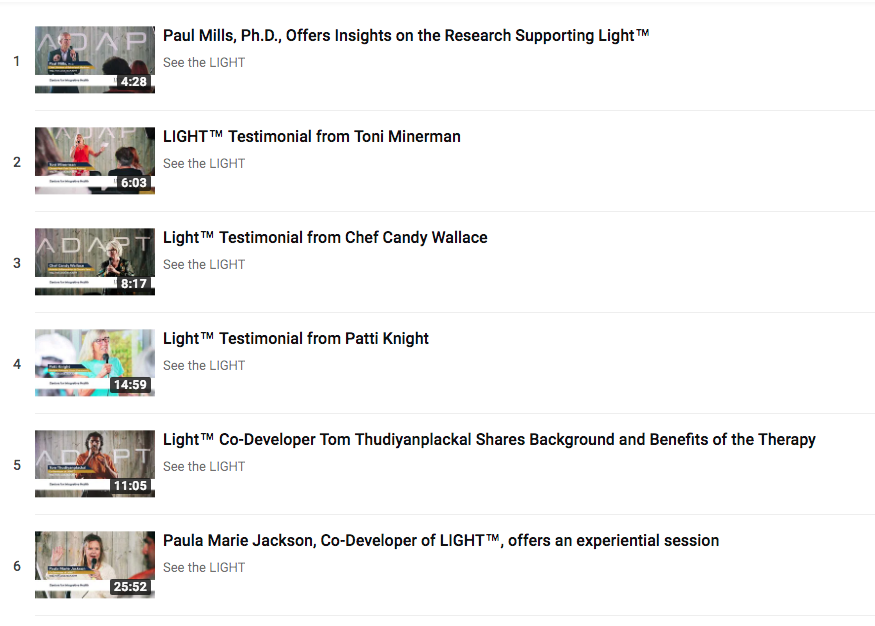 ---
Why learn and practice Light Induced Guided Healing Therapy (LIGHT)?
A scientific study at UC San Diego School of Medicine showed that LIGHT significantly reduced fatigue and improved mood and quality of life.
We have also found that LIGHT improves self-efficacy, which is an individual's belief in his or her ability to succeed in specific situations and to accomplish life goals. Self-efficacy reflects confidence in the ability to exert control over one's own motivation, behavior, and social environment, and face challenging situations. Efficacious people set challenging goals and maintain a strong commitment to them and have a better quality of life.
About the Co-Developers: Paula Marie Jackson and Thomas George Thudiyanplackal
After a lifelong study of Eastern and Western practices to support health and well-being, combined with a professional background in the medical industry, Paula Marie Jackson enjoyed a dramatic health transformation following a grim diagnosis in 1999. Wanting to share her life-changing experience in order to help others, Paula co-developed, with husband, physicist, and filmmaker Thomas George Thudiyanplackal, a protocol called LIGHT (Light Induced Guided Healing Therapy). LIGHT helped Paula regain her strength and vitality that she has now maintained over the last eighteen years. Paula and Thomas worked with UC San Diego to study the effects of their protocol, and found that participants were able to improve mood, decrease fatigue, and positively affect their quality of life. Their combined efforts over the past eight years to research and develop LIGHT has produced an easy-to-follow practice that yields quick results. Their mission is to help the widest audience possible to experience LIGHT and see their own personal transformations.
y sessions with Paula, she put me in a light trance and in my creative imagination, I freely enjoyed activities like dancing and rollerskating. These are things that are difficult for me to do with a heavy leg. We had sessions where she targeted my focus (i.e. commander cells) on healing and repairing my entire leg. I know that is a tall order, but Paula instilled confidence in me.
I have run three marathons since [LIGHT]. One was in December 2014 and I was absolutely in tune with my body and my leg. I ran the whole 26.2 miles and I did not have to stop to walk. Another marathon was in March 2015 and unseasonably hot at 86 degrees. Heat is very challenging for me, as it weighs down my leg and makes running laborious. During the tough stretches, I pictured a strong blue, cooling, and soothing light. I imagined the blue color flowing to my leg and foot to guide me along the course to the finish line.
 [LIGHT] is now a powerful tool that I can turn to help with my MS symptoms and to also get me through tough times. My goal is to be the first person with MS to run 7 marathons on 7 continents in 12 months. You can be sure I will be practicing [LIGHT] frequently and intensely!
 Thank you, Dr. Mills, for taking on this project. It is exciting that I was Paula's first participant and I hope you can bring [LIGHT] to the masses. A lot of us MS patients are desperate for new and innovative ideas." — Cheryl H. (July 2015)
 Cheryl did complete her mission in December of 2017 and successfully ran marathons on each of the seven continents within the year.
"My name is Sharon Glickman. I took the [LIGHT Self-efficacy] class. It was a very positive and enriching class for me. It can be used whenever needed. It can be used for any aspects of life." — Sharon Glickman
"When we set out to create an integrative recovery center for those impacted by mobility disorders, incorporating mindfulness was a top priority. It is our fundamental belief that conquering the mental challenges associated with disability is a primary hurdle for one to overcome while on the path to recovery. We worked with Thomas and Paula to put our leadership team through the [LIGHT] self-efficacy course with great results and subsequently incorporated [LIGHT] as our [mind-body] modality of choice. The skills learned through the [LIGHT self-efficacy] program have given our team and our members the tools to incorporate a sustainable and self-directed guided imagery practice into their lives, which has yielded amazing outcomes both in terms of team productivity as well as quality of life for our members." — John Monteith (Founder, Adapt Functional Movement Center)
* NOTE: For consistency, all references to the original name of "HLGI/Healing Light Guided Imagery" have been changed to "LIGHT/Light Induced Guided Healing Therapy" to represent the new name of this program.