****************************************************
Get BF Special Discount Tickets from AwakeningHearts.com
$150 – 4 day full pass (does not include camping)
Call or Text: Doug@ 760-815-5080
Email Here with: Yes I want BhaktiFest discount tickets now


****************************************************
THE YOGA & CONSCIOUS MUSIC EXPERIENCE OF A LIFETIME!
Bhakti Fest is a premiere 6-day Yoga & Conscious Music Festival, offering music on two stages, a wide variety of yoga, breathwork, sound healing, spiritual and wellness workshops in a magical high desert setting at our NEW LOCATION, Road Runner Dunes in 29 Palms, CA. Offering a beautiful desertsetting with a lake for swimming, fishing, paddle boarding and aquatic yoga.
So much to do and see at Bhakti Fest, including an incredible line-up of amazing conscious music on multiple stages, premiere yoga classes and a wide variety of spiritual and wellness workshops. All your favorite artists and teachers will be returning, plus plenty of fresh faces.  Enjoy an expanded Kidsland experience, beautiful art installations and live art, sound healings, body work in our healing sanctuary, Kirtan School, gender specific workshops in our Men's and Women's Sacred Spaces a large array of amazing artisan vendors and more!
Bhakti Fest features Festival favorites such as Grammy nominees Krishna Das and Jai Uttal, plus other beloved artists including Donna De Lory, MC YOGI, Larisa Stow, David Newman, Govind Das & Radha, Sean Johnson and the Wild Lotus band, The Kirtaniyas and many more.   We are excited to announce Mike Love coming to our stage and have more new artists to be announced.
Practice with the world's top yoga teachers and spiritual leaders such as Shiva Rea, Dharma Mittra, Saul David Raye, Sianna Sherman Mark Whitwell, Janet Stone, Johnna Beekman, Michael Brian Baker,  local favorite Kristin Olson, and many more  to be announced, (visit Bhaktifest.com for the full line-up).
****************************************************
Get BF Special Discount Tickets from AwakeningHearts.com
$150 4 day full pass
Call Doug@ 760-815-5080
Email Here with: Yes I want BhaktiFest discount tickets now
****************************************************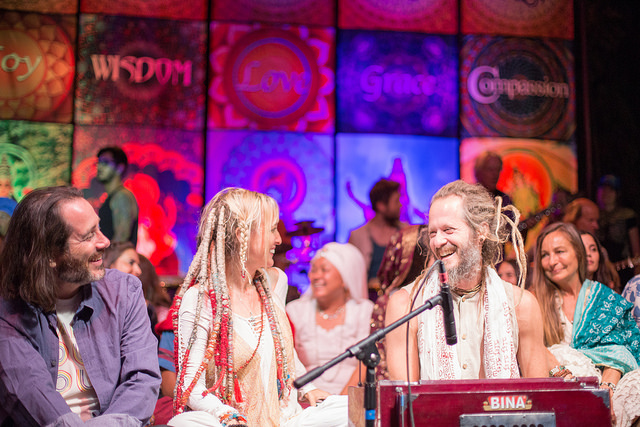 Bhakti Fest is a family-friendly, drug & alcohol-free event and our programs are accessible to all levels. Your festival pass includes everything excluding our pre- and post- Fest Intensives. These intensives take place on Wednesday, September 25 and Monday, September 30 and require a separate ticket. A full festival pass is required to purchase intensives.
Children under age 13 are free. Our Bhakti Fest Kid Land full of fun for the entire family!
Senior, local, and veteran discounts are also available.
Accommodations include camping, RV camping with and without hook-ups, on-site housing, cozy trailers, and glamping yurts.   It is a powerful experience to camp under the stars of the high desert.   But if you enjoy more creature comforts there are many many local hotels, AirbnB's and unique vacation home rentals available in the area. If you choose to camp, please bring your own camping gear.  You can purchase camping and RV's without hook-ups here on Event Brite, for all other options  learn more here.
The City of 29 Palms has rolled out the red carpet for us, and we are thrilled to host our festivals here.  29 Palms, Known as The "29",  has become one of the hottest destinations for rock climbers, stargazers, nature lovers, Joshua Tree fanatics, and sunset seekers alike.  It is the home of Joshua Tree National Park North Entrance, and the official Gateway to the Mojave Trails National Monument. Expect skies painted with color at dawn and dusk, night skies filled with an abundance of stars and the stunning Milky Way.
29 Palms is conveniently located just a few hours drive from Los Angeles, San Diego and other Southern California cities.   The closest airport to the event is Palm Springs International (PSP).  Get more info on travel here: https://bhaktifest.com/travel-information/
Please do not bring alcohol, cigarettes or drugs to this event.
Note that tickets are non-refundable. If you have purchased tickets and are unable to attend, you are welcome to transfer the ticket to someone else if you wish to sell or give your ticket away.
Join our heart-centered community for our 11th year of BHAKTI FEST!